Vote Change Now for Hawaii House District 8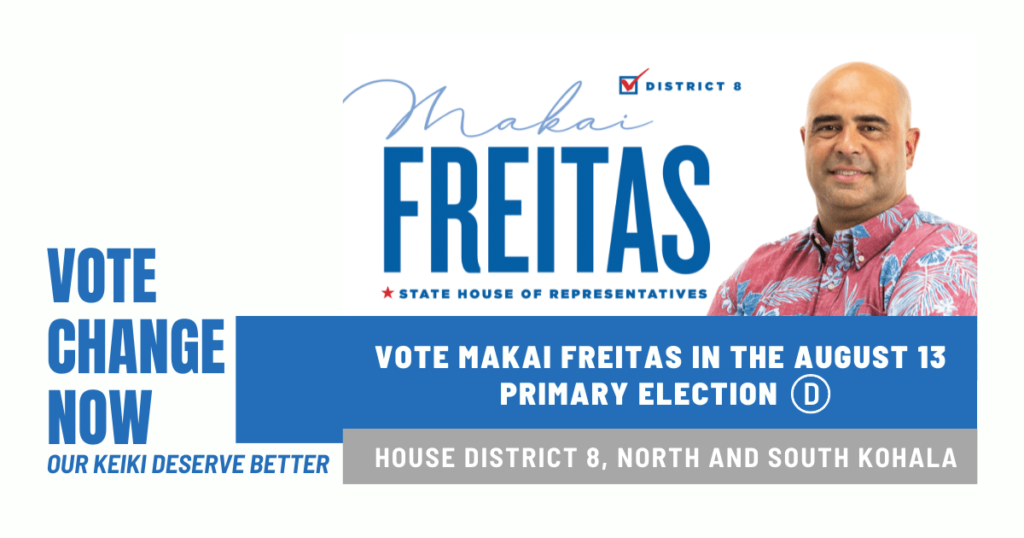 Aloha, Makai here,
I'm Running for election to the newly created State House District 8, which encompasses North and South Kohala including Waikoloa and Waiki'i.   
Who am I? I'm a working man, born, raised, and educated in Hawai'i. I live in Waimea with my wife, Aulani, and our two amazing daughters. My roots run deep in Hawai'i. Some of you know my late father, Rockne Freitas. He championed education and sports, believing both are pathways forward. He and my mom, Leinaala, both proudly part Hawaiian, taught us about hard work, respect, fairness, and our community service kuleana.
Tenacity runs in my blood. I've been a stevedore working the docks for 18 years. I'm not afraid to roll up my sleeves to get hard work done. Through the years, I've learned about fairness, labor advocacy, the rule of law, the legislative process, and the importance of supporting a rising tide – economically, socially, environmentally, and culturally – to nurture shared well-being for our entire community and planet. Although this is my first campaign, I'm no stranger to the Big Square Box – the State Capitol – in Honolulu. I can hit the ground running and navigate to building a better Big Island.
Our district has several critical issues that have the power to tear us apart or bring us together. I will represent the entire community – from keiki to kupuna, from students to veterans, from essential workers to those who own and manage ranches, farms, and businesses large and small, and from generational island families to new arrivals. The hopes and dreams of the entire community are my priority.
Do I have the answer to every problem? No. I have a lot to learn and welcome your input and perspective (Call or text me). There's so much that needs attention and no silver bullets to fix our problems. What I am promising is that we are stronger together. Hawai'i Island needs this; our future and our keiki require it.
Bottom line: I'm in this for the long haul with you to make Hawai'i Island a better place for you, and especially, our children. I humbly ask for your vote in the coming Primary Election for the State House of Representatives in District 8. (Vote by Mail ballots expected by July 26.)
Mahalo, Makai